BHS Freshmen Spotify Playlist
Music is your strongest supporter!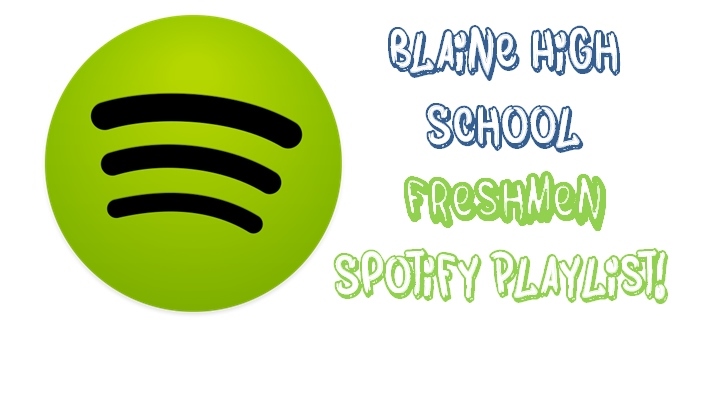 Being a freshman can be stressful at times, especially your first day. So to lower that stress and show you that around the country and world, most everyone is or has been in your position, we've made a great Spotify playlist to push you along. Check under the playlist for reasons why these songs were picked!
Songs in playlist and reason why:
Not Afraid by Eminem
Not Afraid is a song about pushing past your woes and enduring under great circumstances, excellent for your first year.
Warriors by Imagine Dragons
Sometimes you have to remember that being a star in high-school isn't the most important thing in your life. What comes after, and possible success, is what you should really aim for.
Hall of Fame by The Script (feat. Will.I.Am)
Aim for the sky, and even if you fall, the clouds will ease your descent. If you work hard in high-school, the sky's the limit, unless you want to be an astronaut, then nothing is your limit.
I Lived by OneRepublic
Remember, you're still a kid at this point (a rather grumpy one at times) so have fun! Dances, parties, long nights of studying…that is how you live.
Let It Go by James Bay
The world maybe a mess, but this song will calm you down in your hardest of times.
Renegades by X Ambassadors
Need a little inspiration? Check this song out, complete with a lively tune and great lyrics that hit to your core.
Radioactive by Imagine Dragons
Why try to fit in when you can be something better? Don't form a revolution against school though, but be free to be yourself, because individuality is our strongest strength.
Cool Kids by Echosmith
Again, fitting in is one of your main stressors, but it doesn't have to be. Popular kids aren't that bad, and most do have a sense of direction in life, but why would you try to imitate them, be yourself, and be your best.
Real Life by TheWeeknd
This summer has been a season of can't feeling your face, but this school year you face real life, something this song does so well to prep you for.
It's Time by Imagine Dragons
Do I have to say it again, be yourself, and never change who you are.
Fight Song by Rachel Platten
Get ready to throw those BHS front doors open in triumph, because you know nothing can bring you down!
If you liked the playlist, please thumbs up on this article's rating. Otherwise, a thumbs down option is available 😉