Album Review – BELIEVE IN ME, WHO BELIEVES IN YOU
BELIEVE IN ME, WHO BELIEVES IN YOU, Good to Great to Awesome to Amazing.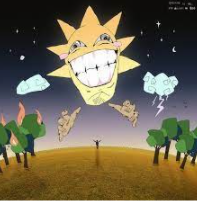 If there was ever an artist who really spoke to me with some sort of lyrics in a song, it would definitely be Aries. In his 2017 album, WELCOME HOME, he spoke about losing someone and feeling alone.
In his newest album BELIEVE IN ME, WHO BELIEVES IN YOU, he performed his heart out, killing it with every song. Every song on this album really deserves more recognition for everything he did with his sophomore release in November of 2021. The album was amazingly received by his fanbase and was accepted by newcomers to the base as well. 
The album features awesome songs like the singles he released before the drop, like "FOOL'S GOLD", "CONVERSATIONS" (which didn't make it onto the final album), "DITTO", "KIDS ON MOLLY", "ONE PUNCH" and "RIDING" on the day of the album release. Also, a quick side note, there are 12 songs on the album, and only two of them are not labeled "Explicit," so if you aren't allowed to listen to music labeled "Explicit," then you're out of luck
This review will use the "Good to Great to Awesome to Amazing" rating scale as to gauge Blueprint enjoyment.
The First Half of the Album – Good to Great to Awesome to Amazing!
Starting off the album was the song named BOUNTY HUNTER, Aries' personal favorite song to make on the album. (Aries said this via a Q/A on his Instagram) Even being one of my favorites, there's always something good about starting off an album super strong. BOUNTY HUNTER has the theme of Aries having newfound money and people trying to 'become his friend' and start feeding off his money and fame. It's a powerful message to incorporate into a song, calling out all the fake people latching on to people who have money and fame. Especially in the music industry/world, that's a huge statement to make because that's what usually happens in the music industry. Overall, BOUNTY HUNTER gets one of my few amazings.  
The next song on the BIMWBIY (which is the acronym for the album I'll be using from now on…) is FOOL'S GOLD, the first single dropped after his freshman/debut album. With a seamless transition from the first song, it starts out with a sub-bassy opening. With this song, it's kinda hard to figure out what he's talking about with the song. He talks about substance abuse throughout the album but also talks about overthinking. Which we all do, and on the scale, it gets a Great from me. 
In the third song, which is RIDING, he really goes hard with the rapping part of his music in this song and he sings quite a bit on the song; it's a very good mix between the two types of his style. The best really plays to his voice on this song — RIDING was the song dropped on the release night for the album, making it the last single for the album. While writing this song, you can tell that Aries had an awesome time making the music videos for every song, but for RIDING, it felt different;it felt like he really wanted to keep pursuing music, which is what I don't see in other musicians nowadays.
The fourth song on BIMWBIY, is a song called ETA. In the song, Aries attempts to go for a rap & pop mix, for a song that feels natural when it's sung. It's super easy to sing along to, the lyrics are really good, and the beat makes everything come together to flow super easily. In the song, however, Aries talks about how he even made it this far in life, with a lyric saying, "how'd they let me stay here?" This shows that no matter if somebody is famous, they are still human. Aries thinks about his life, and it shows with this song. ETA from me gets an Awesome.
ONE PUNCH is a song that, to me, was really really good for the first week it was out even as a single, and then when I hear it it's like, it's good, but would I rather listen to other things. I'm not explicitly saying that you should skip it when it does come on, but to me, I can. For me, ONE PUNCH gets a Good rating.
EASY is such a good song, Aries goes into his personal experiences for this song and doesn't name anybody but he still talks about some of his past relationships. It's not quite a breakup song, but when he's singing, he's singing about the people around him being too easy on him. It's quite a short song but it still has the effect he wanted to have on the listeners. And overall when you listen to it, Aries may not want you to feel happy when you do listen to it, but he still gives you a song to like, so it gets a Great overall.
The Second Half – A Better Part?
Trying to fight against my personal bias for this song, because it's really special to me, I won't state why because there's no point in getting sappy, but the song KIDS ON MOLLY, is really special to me. I feel like when I'm feeling down I can just play the song and my day instantly gets better, even though the title might be a little misleading with what the song actually is, it's still an awesome song. The song is super awesome, it's easily my favorite song on the album, and I really want everybody to feel the same, which means that this song from me, gets an Amazing rating.
I really like HOW RUDE —the pacing of the song works really well for me. It has one of the best breakdowns in a song I've heard as of late, but even though that style has kinda gone out. It's nice to see someone do it every once in a while. Even though it's explicit, Aries really has something going for him in HOW RUDE. I really think it deserves radio play (much like literally every song on the album). In the breakdown, Aries talks about past relationships, and how they functioned, and they seemed to be toxic the way he talks about them, which is why with all of this, it's an Awesome song.
DITTO is a really cool song, being the third single off the album, it had a music video. Aries seemed to have so much fun making the video for his song, and personally, it's my favorite music video from the album, so it gets bonus points for that. I really like his song for walking through school. Its tempo and time works really well for the pace I walk at. It can be somebody's favorite song because it's really good, so in all, I give it an Awesome rating.
DESPERADO is kind of a weird song. All of the songs have their own things about them but DESPERADO just works. Aries in this song took his time with it, and it shows. It seems to be one of the sleeper hits on the album. But DESPERADO is really super well done, the pacing, beat, and sounds inside of the song all mesh super well to create a super awesome song, it's also a non-explicit song so everyone can listen to it, and overall, it gets an Awesome from me.
OUTDATED is a really cool, sleeper, slower song to listen to right after DESPERADO, but something unique about OUTDATED is that it starts out with lyrics sampled from the song "Surrender" by Cheap Trick. It's an awesome song where Aries speaks about being outdated from his plans and relationships that he was in. He also sings about being outdated with his flings who never told him anything. Which is why Aries has such an Awesome song in OUTDATED.
Bear with me here, it's the last song, but the title is long for such a middle-of-the-road-length song. WHEN THE LIGHTS GO OUT is truly something special. It's one of those songs that grows on you every time you listen to it. Every lyric is super cool —  they all flow into one to make a truly unique and super cool song. My favorite lyric from this song is "got a third eye on my head like Tien," which is cool as it references the character Tien from Dragon Ball Z, who has three eyes. The guitar solo to end the album is something that just fits as a perfect ending to a super cool album, and is easily my favorite of 2021. Obviously, this song gets an Amazing from me and serves as an Amazing ending song to BELIEVE IN ME, WHO BELIEVES IN YOU.
To conclude, Aries really hit it out of the park with this album (totally unbiased Aries fan, by the way). He hit all the key points he wanted to, and I really thank him for songs that really change my day when I listen to them. Aries is going on tour early in 2022, doing a European and United States tour. There's a show in Minneapolis at First Avenue on the 18th. If you plan on going there, make sure to say hi, and I'll probably write a recap of that, so stay tuned.