Fall Season is Here… Is It The Most Popular Season?
It's cold, and jackets, hats, and mittens are coming out, so what is the big hype behind everyone liking fall?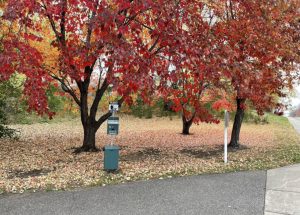 This 2021 year in the USA, the fall season started on September 22nd, and will end on December 21st. This is a time where many people can enjoy the season, and hear them call this season their "favorite," but why is it their favorite? What are the reasons?
According to students at Blaine High School, in an anonymous survey, they believe that most people around the USA do like fall as their favorite season. 85.7% of students said they believe so.
When asked "Is fall your favorite season?", only 29% of the students surveyed voted that yes, they do like fall. But, with another answer added to that, 42.9% of students surveyed said that fall was just one of their favorite seasons. The season coming in at second place, was Spring.
Evie Nelson (Freshman), at Blaine High School says, "It's very pretty out, seeing all the different leaves, and the trees." Most people said that they enjoy the coldness coming in. One anonymous person from the survey said "I enjoy the weather." Another anonymous participant from the survey also says, "It starts to get cold, and not so hot anymore."
"I usually like jump in the leaves," says Jay Bukoskey (Freshman), a student at Blaine High School. A lot of seasonal places open up in the fall. For instance, pumpkin patches, apple orchards, corn mazes, etc. "I've gone to a maze before, which was fun when I was younger," Says Molly Garber (Junior). "Otherwise, a bunch of my friends go to the Dead-End Hayride, but it's too scary for me." In the survey, participants got to choose if they have ever been to an apple orchard, pumpkin patch, or a farm during the fall season. 64% of people have been to an apple orchard and a farm. 93% of people have been to a pumpkin patch.
Fall is a season that is favorited by many. There is a lot of opinions on why it's such a popular season, and a lot of activities to do during this time. One person surveyed does recommend a place to go during this time of year. "Visit any pumpkin patch, they always have good activities and fun things to do outside."