Interview With School Cartoonist "PJ"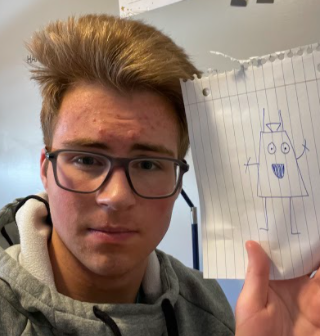 Interview with PJ, a part-time cartoonist.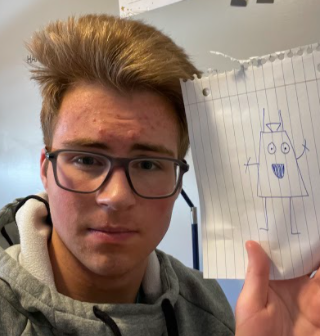 In this interview, I'll speak with PJ about his time as a cartoonist. I wanted to know about his comic's origins, what they're like, and what's happening with them now. I also want to learn about his interest with exposure to a larger audience. 
Some of the things I simply had to know were his early career, his current career, and his future. I thought it would be interesting to try and learn a bit about his advice for young cartoonists as well. He has really been one of the few people in his class who can say they cartoon. It's just one of those things that kind of faded out with the new era in technology. That's one of the biggest reasons I figured an interview would be a cool thing to actually get with such an icon. So I reached out, and he said yes.
PJ's background
PJ is a junior here at Blaine High School who is decently involved in school activities. He does things like games and plays basketball in his free time. He also draws. His real name is Preston Ringer. 
Interview
I started by asking him about how he started out his cartooning career. 
"It all started in early second grade. We had these thingies called 'whatever notebooks', and they were essentially notebooks where you could do anything you wanted to. I started out with just random drawings until I got an idea: a story about skyscrapers, but they were essentially humans living human lives. I started out writing them as stories, then they switched to comics once I realized it was tough coming up with story ideas."
I then asked him why he still continues to draw comics.
"Good question. I realized after I had started drawing comics that I could use these comics as a way of showing what would happen to my characters if I made a random situation in my head. Then, deliver the punchline, and bam, you have a comic. That moment when you get that punchline is what makes it for me. Also, seeing other people enjoy my comics makes me want to continue."
I then asked him why he takes "breaks" from drawing. 
"Ya know, sometimes life gets to you. Whether it be COVID, or something else, you start to forget about drawing funny things. You start to get serious about things. Also, things like lack of time, like with Calculus class this year, or with sports like basketball or track."
Then I asked about his future.
"I think it'd be really cool to spend my life drawing comics for other people, but it's a tough way to make good money. If I were to pursue cartooning, I would switch it to comic "book" format. That basically means doing a story, but still using comic book format. Either that or just keep occasionally drawing them for myself and friends."
I finally asked about what other people who are interested in cartooning can do.
"Yeah, it's really pretty easy. All you need is some creative or innovative character, a funny story, and a punchline. That's the beauty of it, you don't have to have a four-year art degree to draw comics."
I then proceeded to shake his hand, and we parted ways. His comic career so far has been off and on, and I certainly hope he continues to draw. He's a great person, and he's super funny. His comics are certainly innovative and they make you laugh. There'll be an example of the comic posted below.