How to Survive AP Calculus
A how-to on making this class an easier ride.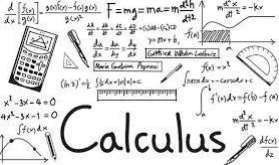 Homework, tests, practice AP Exam questions, these are all things you face in AP Calc. While the class isn't very fun, it's survivable. My goal today is to give you some tips and tricks to navigating the journey that is this class. Whether you're on the path to taking it next year, or you're already facing it, I will make it my goal to make it a little easier on you. Now log off your phone (Calc joke) and buckle up for a fun article about surviving this joy of a class. 
Tip 1: The Homework
As irritating as it may sound, this class will be easier if you get the homework done. As someone who hates homework myself, I can say that it's still one of the most efficient ways to better understand what's happening in the class. It gives you some questions that'll be a unique challenge, and some that will be super easy. The challenging questions are usually taking what you've learned in class, and adding some new layer to it. The good thing is, most of these are accompanied by a video showing you how to do it, helping you to understand what's happening in the class on another level. 
Another reason the homework is a crucial piece of this class is the fact that it's graded. Homework is 10% of the total grade of the class, and that could be quite a bit when you get to the end of the trimester, and your grade is teetering on the edge of an A- or B-.
Tip 2: Review
During the unit, you're given checkpoints. These checkpoints are excellent tools for review. Many of the questions on these checkpoints are eerily similar to the ones on the test. Make sure you get these done, and then utilize them to study and review prior to taking the test. 
Another item you will receive is a review packet. DO THE REVIEW PACKET. This is another really solid tool for test preparation. You don't need to necessarily do every question in the packet, but do what you need to review. 
The last thing you can do is the bonus forms of review they provide, like DESMOS reviews. These are helpful as well.
Tip 3: Notes
Writing stuff down that's talked about in class is a huge part of doing well in the class. AP Calculus is considered a college class, so writing things down is a major piece of the class. When you take good, organized notes, you have things you can quickly look at when you are trying to do your homework or review materials. Also, write examples down, more than just definitions.
Tip 4: Paying Attention
Yes, this should be obvious. But you'd be surprised how many people just don't seem to care. Looking at your phone, sleeping, it happens. But don't do it, because the teachers want you to succeed, but if you don't try, everything gets more complicated. Make sure you use the class time you're given and make it more fun by trying.
Tip 5: TI-84
This is a tip that is less important but will help. At the start of the year, right away you'll need a calculator. If you don't want to buy one, you can always feel free to rent one. I rented a TI-83 for trimester one, but I still haven't returned it. Eh. Anyway, that's not the best calculator to have. You should have a TI-84, or TI-89. The school has TI-84s, and those are the easiest and most efficient for Calculus class. They have much simpler tools that will help with time management, which becomes really crucial around the time when you start thinking about the AP Exam. It's vital that you can get used to a certain type of calculator, seeing as the AP Exam is a timed test.  
In Summary
AP Calculus is one of those classes where you have to put the effort in to understand the stuff that's being taught. If you treat it like a college class, you'll do fine in it.