Making an All-Star Case – Karl – Anthony Towns
From being an All-NBA player or even being an NBA All-Star, one superstar player is making a strong case for all both.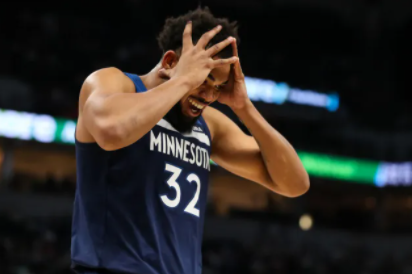 Ever since Karl-Anthony Towns was drafted #1 overall in 2015, the Minnesota Timberwolves have started to build a good young team around him, adding one of his best friends in the later season of 2019 and in 2020 again with the #1 overall pick they drafted Anthony Edwards. But enough about them, let's keep talking about Towns' potential All-Star Season. 
Towns had a very good start to the first half of the season, seeing as we are about a month away from the All-Star break. In 33 games, according to Basketball-Reference (everything on here is from that site), Towns is averaging 24.5 points per game, 9.3 rebounds per game, and just about 4 assists per game. Towns only played 33 games  so far this year because in late December he went into the NBA's Health & Safety Protocols. But in today's NBA some centers might be scoring that many points, for example, Joel Embiid and last year's NBA MVP, Nikola Jokic.
But what makes him different? Embiid and Jokic may shoot threes but not make them at a consistent rate, Towns makes them almost as much as he shoots them, shooting a career-high .425% from the three. An impressive feat for Towns is the fact that he's averaging at least one figure for every major stat, aside from the big 3 major stats, Towns has been averaging a career high free-throw percentage at .856%, 1 steal per game, 1.2 blocks per game and a career-high 3.5 turnovers per game.
Towns and many other Minnesota fans call him the best shooting bigman of all time, and it's not hard to see why. Over his career he has shot mostly mid-range shots. Not only that but, Towns has a 3-point percentage of 2 thousandths under .400 over his 7-year career. As a center, that's a very impressive feat, and very few players can say that they, as a bigman in the NBA, can shoot well and consistently. 
It's no surprise that Towns likes to play in the starting line-up. Especially when he's paired with fellow possible Wolves All-Star Anthony Edwards. When Towns and Edwards are on the floor, they have the highest net point gain for the Wolves, especially the starting line-up, they have a +50.7 net rating while the starters are on the floor. This proves that Towns makes a difference in how he plays, he isn't a primary finisher at the rim, but he has the ability in his back pocket for when he needs it. 
 Towns has had a good couple of weeks before the All-Star Festivities begin, on the 9th of January. Towns had an amazing night, he was on Triple Double alert, and as a center, that's crazy. But he also dropped a 40 point outing against the Houston Rockets. Of course with his favorite lineup they all nearly had at least 20 point games, with Jarred Vanderbilt and D'Angelo Russell following KAT's success but not nearly as much. With such great talent, KAT can surely become an amazing player, and maybe he already is and people don't know it yet. But, in the league, he has proven that in years past, and this year he's proving it again. Towns is showing people why he believes he deserves to be an All-Star, and people should be voting for him left, right and center.