Part Time Jobs High Schoolers Can Take
Having a job can be very useful but it might be hard to find where to look, so we looked into a couple of places to start looking for work.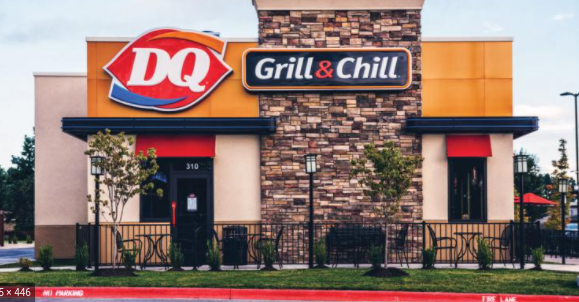 Part-time jobs can set you up for a great future after high school. They can also help with college costs that can worry some high schoolers. There are many different job types you can take, here are some opportunities in Blaine for teenagers.
Dairy Queen is a great place to work for a first job. You have the option of doing full-time or part-time. Also you get paid $11.04 an hour as a crew member, $13.72 dollars an hour as an assistant manager, and $10.82 an hour as a cook. The dairy queen near Blaine high school is at 12721 Central Ave NE, Blaine, MN 55434. This works really well because it won't be that far to drive so you don't have to pay a lot of money for gas. Some other benefits to working at Dairy Queen are that you get an employee discount, Tuition reimbursement, and an easy flexible schedule.
The job description says that "the responsibilities of Crew Members include: greeting customers, cash management, operating a POS terminal, making products , cleaning and other duties as needed. We are looking for individuals who work well in a team environment and maintain positive attitudes. If you enjoy working at a fast pace and helping others, come be part of our Team!". To work here you are encouraged to apply when you are 16+ years of age.
The second job in Blaine that you can apply for is Caribou Coffee. To be able to apply here you must be 16 years of age or older. A benefit to working here is that there are many across Blaine and Ham Lake for you to work at so you can go to the one that is convenient to you. To apply you don't need any necessary experience but if you have a background in retail, restaurants, or customer service that is just an extra plus.
Some additional benefits to working here are health insurance, dental insurance, employee discount, and a flexible schedule after meeting the requirements. Their job description is "At Caribou Coffee we create day-making experiences that spark a chain reaction of GOOD! This is our purpose. Our team brings this to life by focusing on what's really important around here – TEAM, GUEST, QUALITY ! It's that simple. If you're ready to work somewhere you can be yourself while making an impact on your community, creating life-long relationships, and serving the best coffee around, join our herd! Apply today and be part of the 'Bou Crew!" You can work here and get paid around 11-12 dollars an hour.
On 109th Avenue Panera Bread is hiring. You can work here as a sandwich and salad maker. Although to work you must be above 16 years of age. Working here comes with some perks which include free meals on shifts, Career growth opportunities, competitive pay, and eligibility for a quarterly bonus. Food service experience is preferred, but not required at Panera.
This would be a great fit for you if "you want to partner with a fun, energized team that can work hard and laugh often" and "you like the hustle and bustle of the hospitality industry". The full job description is: "want to work in a place where you can learn, laugh, be supported, be yourself and reach your goals? If so, then Panera is for you. We do everything possible to earn your trust and help you succeed—every day, in every way. Come join the fun!" The income for Panera is around $9-15 an hour.
For more information and different job opportunities in Blaine, visit Indeed.com
https://www.indeed.com/q-Teen-l-Blaine,-MN-jobs.html?vjk=95a1f8754a577d5d