BHS Most-Improved Athlete of the Week: Nate Kinney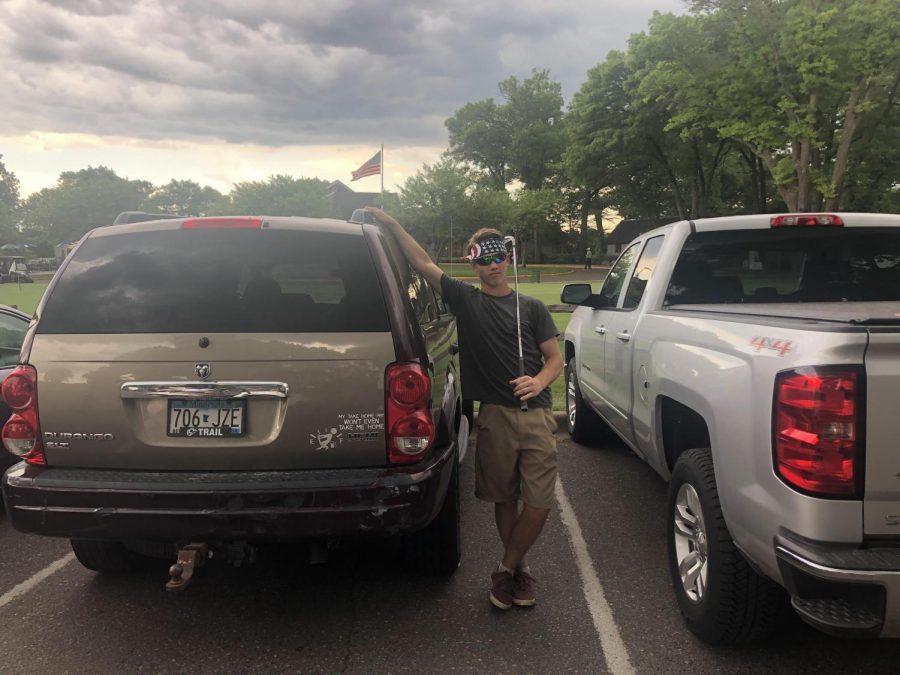 Caleb VanArragon and Andrew Davis
June 4, 2018
Blaine High School Varsity golfer Nate Kinney had himself quite a week last week.  On Monday at a Northwest Suburban Conference match at Logger's Trail Golf Course in Stillwater, Kinney shot a 97.  His round was the highest on the team and featured a score of 15 on the par-5 9th hole.  Like a true champion, Kinney responded to this adversity by shooting an 83 at the Northwest Suburban Conference Championship at Bunker Hills Golf Club on Thursday, keeping his score on all holes safely within the single digits.  Kinney's score Thursday was the second-lowest on the team.  In recognition of his sensational comeback, the BHS Blueprint has named Nate Kinney the inaugural BHS Most-Improved Athlete of the Week.
We recently caught up with Kinney after golf practice to hear his thoughts on how he was able to complete this epic comeback.  Our interview went as follows.
Andrew:  So how long have you been playing golf, Nate?
Nate:  About 8 years.
Andrew:  Have you ever shot a 15 before?
Nate:  Yeah, actually, I have, it was just last Monday at Loggers Trail.
Caleb:  Any 15's before that, though?
Nate:  No, never happened.
Andrew:  So it was a once-in-a-lifetime experience?
Nate:  Yeah.
Caleb:  So could you walk us through that 15?
Nate:  So we were on the tee shot on #9 at Loggers Trail and it was a dogleg right, and I hit my drive and I totally sliced it into the fescue into the tall grass on this big hill, and so I was kind of in a little bit of trouble, but I wasn't that bad.  So I went up to the ball, and I was like, I'm going to take a seven-iron and kind of punch this into the fairway.  I had probably 120 yards to get into the middle of the fairway, cutting the corner, and I bladed it into the water on the other side of the fairway.  So I took a drop, and then I hit four-iron, because I was about 220, so I hit a four-iron, pushed it way right into the fescue on this hill again, and the hill was, like, straight up, so I went up to my ball, found it, and I was going to just use my sand wedge and just, kind of, just, knock it down into the fairway, probably, like, 40 yards, and I shanked it into the water, all right?  So then I was like, well, that's disappointing, so then I took a drop, duffed it into the water, dropped it again, duffed it into the water.  So then I was sitting here like, all right, we're going to take another drop, we're not going to leave this one short in the water, so I hit it, landed on the green, rolled off into the water on the other side.  Took a drop, chipped it on, and then I two-putted.  And after that, I was like, that was a 15.
Caleb:  So, you drive a V-8 Dodge Durango and you change your own brakes.
Nate:  I drive a 2004 Dodge Durango.  It's got about 335 horsepower.  She rips.
Caleb:  So how would you say that that helped you to come back from that horrible 15?
Nate:  The V-8, it's like, my motivation, it really just motivates me to just hit the ball, like, 380 yards every tee shot, because I just feel so tough because of that thing.
Andrew:  And how does that work on par-3's?
Nate:  I just hit my putter.
Caleb:  So after shooting that 15, you made a 97 on Monday, and then you came back and shot an 83 at Bunker at the Conference Championship.  What would you say helped turn it around for you?
Nate:  The V-8.
Caleb:  Okay.
Nate:  Number 4 East…
Caleb:  At Bunker Hills?
Nate:  I just… I bombed my drive.
Caleb:  All because of the V-8?
Nate:  The V-8 helped me just… I was just bombing my driver on every hole, honestly.  It was just really good.  And I made a lot of putts, but without that driver, without the big stick, I just wouldn't have gotten anywhere on Thursday.
Caleb:  So, was there any change in mindset or anything, or just walk us through what was different when you shot 83.
Nate:  Honestly, all I had to do is focus on hitting the ball straight and FAR.  Mostly far.
Andrew:  I want to get back to the 15 for a second.  How did your teammates react when they found out that you shot a 15?
Nate:  Oh, they humiliated me publicly.
Andrew:  What does that entail?
Nate:  Don't shoot a 15, because your teammates will publicly humiliate you.
Caleb:  I think he doesn't knows what "entail" means.
Andrew:  Okay, how did they publicly humiliate you?
Nate:  I don't know what "entail" means.  But, you see, mostly just Jared Messerschmidt, he just comes and mentions it all the time and makes jokes and he's trying to get me on Bengal Broadcast as Non-Athlete of the Week, which is kind of hurtful.
Caleb:  But now, after that 83, you are instead on the BHS Blueprint as the Most-Improved Athlete of the Week, so that's got to feel really good for you.
Nate:  Yeah.  Honestly, I don't think anyone's ever earned this before.
Caleb:  They have not.
Nate:  First time anyone's ever done this.  So, you know, I'm like a world record holder at this point.
Caleb:  Yeah.  Absolutely.
Andrew:  Well, it was nice talking to you, Nate.  Hope you have a good day, hope you're safe in that V-8, and never shoot a 15 again.
Nate:  Good stuff.