Track Coach Lachinski Answers Common Track Questions
Learn things about Cathy Lachinski and Track and Field.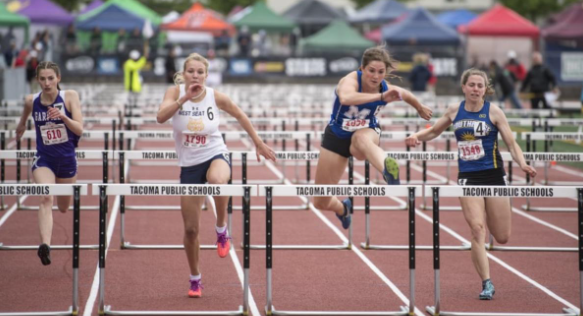 Track and Field is a great activity to get involved in for personal growth. I interviewed Cathy Lachinski; she is the girl's track coach at Blaine. I asked her 5 questions about herself and what she does. These questions were asked in an email.
Question #1: What do you coach in Track and Field? 
She said that she coaches the hurdles.
Question #2: When did you start coaching Track and Field? Why? 
"I have coached Track and Field for several years (12 years at Blaine HS)," she said. She has coached both high school and middle school track. She was even Captain her senior year. She even said, "I love running and wanted to create that love of the sport for others."
Question #3: What do the students do in Track and Field?
"Students train for general fitness/speed/strength in the beginning of the season," she said. Students can train for specific events on track. She said that there is plenty of running, stretching, strength training, and jumping. There are also plenty of events that you can partake in, like relay baton hand-offs. For Throws, Vertical Jumps, Horizontal Jumps, Pole Vault, Sprints/Relays, Hurdles, and Middle Distance/Long Distance they all have coaches for them. 
Question #4: What can you learn about the outside world from Track and Field?
She said, "lessons learned in Track and Field teach the lessons needed to be successful. Examples are to continue working even when it hurts, and to push through towards a goal. Goal setting and working through obstacles are an integral part of Track and Field." A lesson that should be learned is that some people cheat and you should hold yourself accountable. If you cheat on practice it is shown that your times/scores will be affected.
Question #5: What does track improve about you overall?
"The overall improvement a Track and Field athlete will see is not to be afraid of hard work. You can see individual results of your hard work, what you can put in shows in you own success and your success contributes to the team," she said.
Bonus question: Where can students sign up?
If you want to join Track and Field you can sign up through the activities registration online. If you can't find it or have any trouble in the process of signing up, you can get help at the Activities Office.