What You Should Know About Veteran's Day and the Military
Veteran's Day is a very special Holiday celebrated here in the USA. Learn more about it from people who were in the military!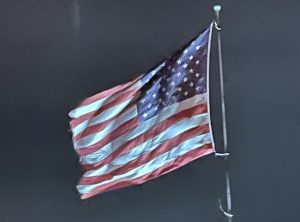 Veteran's day is a Holiday here in the USA where we celebrate and honor all of the military veterans that served for us. It is celebrated on November 11th, and we celebrate this holiday for those veterans who have served us.
It's celebrated on November 11th because that was the day World War I ended. That was 1919, about 100 years ago. Veteran's day wasn't always called "Veteran's Day." Actually, it was first known as Armistice Day. It changed to honor those Veterans, according to today.duke.edu. It's also good to know that there is a difference between Memorial Day and Veterans Day.
One Veteran at Blaine High School, CEMS teacher John Bayer, says "Veteran's Day is sometimes confused with Memorial Day."
There are a lot of Veterans in the USA, close to 19 million, according to ncsl.org. Bayer says "I joined in May 25th of 2001 and then I just finished in May of this year."
Many people also celebrate and honor those Veteran's. When asked, "What does Veteran's Day mean to you?" Caleb Budnick (Junior), a student at Blaine High School says, "Respecting the soldiers who served in the military." He also says, "My dad served, my grandparents served, and my aunt served."
Bayer also explains what to do to honor those Veterans. "Just go to somebody you know is a Veteran or somebody that is serving and just be thankful and just express your appreciation for them." He goes on to say, "One of the biggest things you could do is if they ever get activated or deployed, try to just do things to help out that family. Offer to mow their lawn, or offer to shovel their sidewalk when that person is gone."
Now, what should you do if you want to join the Military? Bayer tells us, "Just with the internet you can find a recruiter to help you, some of the resources you can find online will let you kind of narrow your search first, before you actually take that step and reach out to somebody." Or he goes on to say, "Find a person who's been in it, investigate on the internet a little bit, or just talk to a recruiter at school."