"Devious Licks" Trends and How They Can Affect Your High School Life
Students stealing for fame, schools everywhere dashing to respond to this latest Tik Tok trend.
High Schools, Middle Schools and colleges everywhere around the world are being affected by a trend that started on September 1st, called the "Devious Lick" trend. Students participating in this record themselves with an audio (the audio used is a sped up song called "Ski Ski Basegod by Lil B"), and steal items from their school in a sort of competition for fame. This trend was started on a popular social media app called "Tik Tok", which is known as a video entertainment platform for mostly teens and young adults. In the "Devious Lick" trend, the term "Lick" means theft, and the word devious stands for being devilish or extreme. In schools everywhere, students are stealing numerous items, most coming from bathrooms, like soap dispensers or paper towel rolls. Even one student from Blaine High School, Shriya Totaram (Junior), was asked "What are some of the worst 'Devious Licks you've seen?" replied with, "On Tik Tok, I've seen someone try and steal a table." There are many accounts on Tik Tok of people stealing shocking things like entire bathroom stalls, computers and more.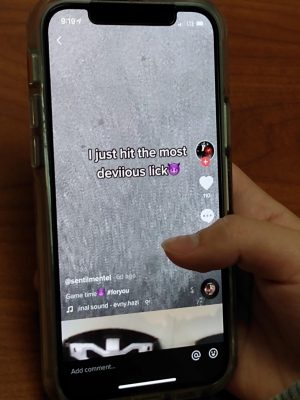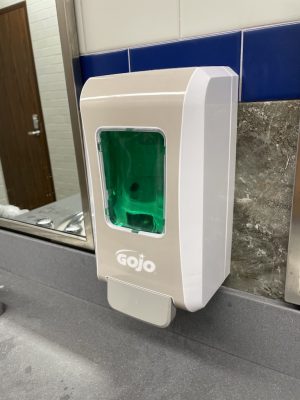 The person who started this all, was a Tik Tok user, with the username @jugg4elias. His account is now banned on Tik Tok, so you can not see any of his content, including the "Devious Lick" video that started it all. Along with this user's Tik Tok video, there are so many other Tik Tok's of other user's doing this trend. Can be hard to find though, because the word and hashtag "Devious Lick" is banned from Tik Tok. Try looking it up on Tik Tok, and see for yourself! Videos on this can be taken down too off of Tik Tok for breaking their "Community Guidelines." But that has not been enough to completely stifle the trend. Even Blaine High School is dealing with this trend.
Many think this trend has gone far, and is a very bizarre thing to kick off the start of a fresh new year for many students, as well as teachers and staff. The schools are already struggling with keeping everyone in school and safe. These "Devious Licks," do not help the covid situation. There are major consequences to participating in these actions that can even lead into legal situations. When Mr. Fang, a security guard at Blaine High School was asked, "What are the consequences in taking part of this trend?" He responded, "Contacted parents, suspension, and a possibility of the school board prosecuting students." This trend is a serious situation, and the consequences that follow it are very grave. Some students, like Amanda Olson (Junior), share a natural stance on the trend, stating "It's obviously harmful but I don't really care, it doesn't really affect me." Olson then went on to state that only when the trend gets to bigger items does it really leave an impact.
Not everyone goes around tearing stall doors from the bathroom or yoinking the bike racks and most of the cases are caught eventually anyways. But the staff still urges you to be responsible. When asked, Principal Paske states "We're all in this together, it's not one person's job. It's everybody. Everybody has to get involved to make this a great place."
It is important to show empathy for others, you never know how your devious lick is going to affect someone's day. Stealing from the school is never a good idea. It takes money away from the community and further. Principle Paske said "Whether it is the custodian who has to clean up the mess or the district manager who has to watch over camera footage," it affects everybody. Thankfully, it is getting better.
In the light of this all, there has been another trend slowly growing in popularity that correlates with "Devious Licks," except actually beneficial, and that trend is called "Angelic Yields." This new trend is the complete opposite of "Devious Licks". Instead of students stealing items, they are actually getting new items that were previously stolen, or simply returning what was stolen. Some examples include students putting in new hand soap refill bags, toilet paper, or stuff way out of the ordinary like fairy lights or music speakers. One of the most famous Tik Toks about the "Angelic Yield," shows someone putting a 20 dollar bill in the bathroom. This video has earned over 5 million views, and almost 1 million likes. Is this evidence that the internet isn't all bad? It seems to be that for every "Devious Lick" there is also an "Angelic yield".