Norhart Apartments: Covid and Expansions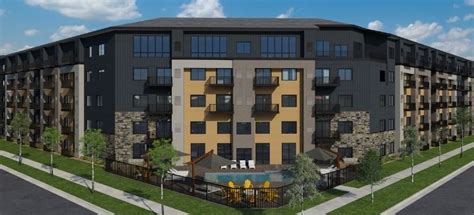 Some history on Norhart:
Started by Ed Kaeding and his wife, Brenda, in 1988. In 1996 they had 90 construction units built and their sons were involved on the construction teams. They continued to grow the business for many years till Mike Kaeding took over the business when his father died from an untimely stroke. Norhart offer apartments in the Forest Lake and Blaine area with an expansion of Lexington Lofts this year.
Below is an email exchange between LeAnne Latham, the Chief Operating Officer for Norhart, and myself.
– Can you tell me a bit about yourself and what type of work do you do?
My name is LeAnne Latham and I am the Chief Operating Officer for Norhart.  I oversee all aspects of operations within the Norhart portfolio of 12 properties and the development of our 13th called Lexington Lofts opening June /July 2021.  Specifically I over see; leasing, maintenance, cleaning, community management, property management, training/growth and development of staff, HR duties, financial oversight and budget forecasting for those same areas.
-How has Norhart been affected by Covid regulations?   -What does this mean for tenants and Norhart employees? 
Covid has affected the multi-family housing industry in several ways from decreased community involvement where we are no longer able to host social events and gatherings for our residence to the moratorium on evictions where the Governor signed an executive order to suspend certain evictions during state of emergency. The order was extended through March 15, 2021.
The way in which we interact human to human has fundamentally been impacted and has created several more technological changes.  Zoom or Facetime calls to tour our available units and answer any questions to contactless move-in processes.  We pivoted our leasing procedure to 100% online abilities so a person can tour, apply, and lease an apartment with all from their personal device.
-How have Covid regulations altered current and/or future projects for the apartments or business as a whole? 
Covid hasn't hindered any projects and we continue to grow as an organization with Lexington Lofts opening coming in the summer 2021.  We make it a priority to follow all requirements and guidelines by the state and CDC. Covid has certainly taught us to be resilient as a company and flexible to the ever changing needs of both our consumer and employees.
– Have some residents abused the moratorium such as not paying or other issues? 
It's pretty significant the abuse of the system when it comes to non-payment and/or minor criminal actions that we can not evict. The impact unfortunately is on the entire community.
– How much was Norhart involved in the community before the decrease and how have you seen the decrease affect how residents and employees operate? 
Overall it's not as significant as it will be in our future.  My role here has a big piece of creation of lifestyle / community building.  I am in the process of building a program to support our local FL small businesses and our tenants.  A type of perks program if you will to provide services to our tenants and bring business to the small operations.
-Will the technological changes be ongoing and integrated into how Norhart operates?
Absolutely!  We hope to create our own app in 2022 so we can blend all the technologies of leasing, amenities, services and payments to a one stop shop.  Being a one click to provide a convenient option to apartment living.
-My audience are highschoolers that may be looking for apartments in the near future. – What are some things that they should consider when looking for or renting an apartment from your perspective as Chief Operating Officer?
What I would look for in an apartment / multi-family housing company if I were in my 20's …
Lifestyle Living (what do you like to do in your free time) …  what do I get for my money?  Paying rent can be expensive but if you can save by not having to pay for a gym membership or date night at the movies…  Well then it may be worth the investment in freedom from mom & dad.
– Pool
– Gym
– Movie Room
– Game Room
– Free Wifi
– Utilities / Cable / Internet included in my lease price or is it additional?
– Pets?  Fees?
– Parking indoors … Hi…  this is MN
– Noise level … is the building well insulated?  If I have friends over is Mrs. Smith in 301 going to complain we are too loud at 1:00 AM?
– Get renters insurance ALWAYS!   It's worth it in the end.
– Security!  Cameras, staff on property, well lit and well maintained.