How one club aims to change the world, beginning with Blaine High School
Members describe the club as, "Green, positive, and hungry for change."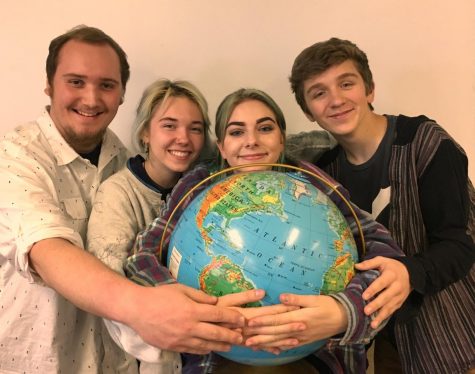 BLAINE HIGH SCHOOL Last month was the debut of Blaine High school's first Environmental club. They plan to change Blaine High School into an example of a sustainable, environmentally-friendly student community, for other schools to follow.
"Our goal is to inspire a passion for the environment within each member, which they will carry throughout their careers, and wherever they go in life." says environmental club student leader, Cami Thorstenson.
Thorstenson was inspired to lead the Environmental Club at Blaine when she and her friends attended a Youth Environment and Activists of Minnesota Club meeting last fall. The club encouraged students to start clubs at their own high schools, so Thorstenson took action.
In their first few meetings, the group members began to discuss future plans for projects, and how they were going to accomplish them.
One of their projects is to have "Meatless Mondays" at Blaine High School, which would be a district-wide initiative, affecting many students and staff. On Monday's the cafeteria would not serve any food containing meat. The club argues that by limiting the amount of meat served in the cafeteria, would help reduce greenhouse gasses, reduce fuel dependence, and minimize water usage.
Although these effects could make Blaine High School's lunchroom more sustainable, many students have negative opinions of the project. A student reacted, saying, "Meat is the only thing I eat during lunch. If they didn't serve any, I would have nothing to eat!" Another student said, "School lunch is already bad, and taking away meat it would only make it worse." As a result, students may begin bringing their own lunches on Mondays, which could contain meat products, defeating the purpose of the project.
The club is also planning to begin collecting uncooked fruits and vegetables from the cafeteria, and use them to make compost. They plan to place buckets in the cafeteria's tray dumping area, where students could throw away apples, carrots, raw broccoli, cauliflower, and other compostable food items.
The group acknowledges that it's hard to rely on the students to correctly sort their food items. Sophomore Gavrielle Gunther identified another downside, "The idea of the compost bin wouldn't work. There used to be a recycling bin for milk cartons, but then [the janitors] took it away. It's obvious that people are too lazy or rushed to sort their garbage."
If the club is able to successfully collect compost from the cafeteria, they plan to put it in large compost bins on the school grounds. Eventually, student's lunches will turn into fertile, black soil.
The soil produced might be sold to help fund the club's activities. The club has also discussed using the soil for perhaps their biggest project yet: growing vegetables in a greenhouse at Blaine High School. Their vision is to grow fresh produce and sell it at local farmer's markets or even donate it to charities or food shelves who support the homeless and people going through financial stress.
However, the club has found that it may be more difficult to get the school on board with their idea. Blaine High School used to have a greenhouse before it was demolished three years ago.
Prior to its demolition, the greenhouse was in bad shape. It wasn't maintained, and it was barely used for planting, but rather for the ski team's storage.
Ironically, the greenhouse wasn't sustainable. In the winter, it was being constantly heated, and without adequate insulation, it wasted a lot of energy.
Because of these obstacles, the club plans to make a compromise and build a cold frame rather than a greenhouse, which is easier to construct and take down. To make sure the cold frame would be maintained and used, the club is even intending to keep planting over the summer.
In the near future, the club plans to lead clean-up crews to pick up trash in Bunker Hills and around Blaine High School and to volunteer at the Coon Rapids Recycling Center.
Another one of the club's goals is to raise awareness about environmental issues. For example, they would like to organize a "Bee' Aware Week," during which members would inform students of the decline of bees and pollinators due to the use of harmful pesticides. The word could be spread with posters, Bengal Broadcast, and with the morning announcements.
The club also aims to show how all students can have a positive impact on the environment, and encourage students to have a more sustainable lifestyle. They plan to help students become more knowledgeable about the importance of compost and recycling, conserving water and electricity, planting native flowers, and choosing to buy organic.
Thorstenson encourages all students to join and participate in the Environmental Club's projects and activities, "As a society, we have done so many negative things to the environment, that now is the time to give back."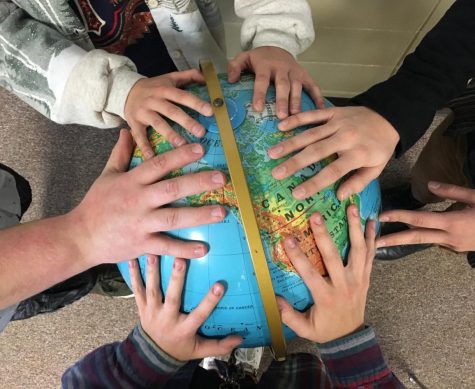 The Environmental Club meets in room 115 on Tuesdays after school.