Op-Ed: Blaine High School is Severely Overcrowded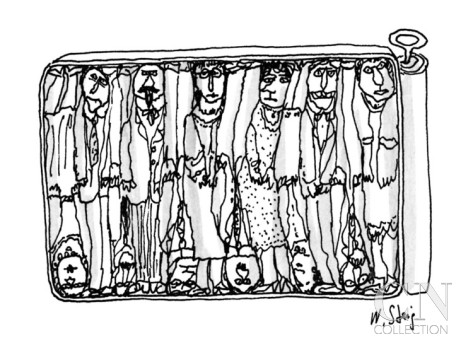 Hang on for a minute...we're trying to find some more stories you might like.
In 1972, the Anoka-Hennepin school district decided to build Blaine High School. After having completed the feat of architectural brilliance now known as Anoka High School, they then pretty much copied the Anoka building, flipped it around, and built Blaine. The school builders took the suburbia vibe to the V; just as many suburban houses look exactly the same, Blaine would look exactly the same as Anoka. The drab, Brutalist building even follows the architectural maxim of form follows function: the ugliness of the building motivates students to do well in school so they can leave Blaine as soon as possible.
Yet even in the midst of all this architectural genius, they still messed up. According to a District-appointed Fit for the Future Task Force handout, Blaine has 2,000 less square feet. Today, Blaine has 2,864 students, 500 more than Anoka, making it first in district for school enrollment. And right now, Blaine is severely overcrowded and something needs to be done. The BHS building was built for 30 years, yet, 44 years later, it still stands
The District Taskforce even says that too, "Severe overcrowding in some schools, such as Blaine High School, is limiting what's available to students educationally." Teachers are having to move from class to class. Special Ed classes are being taught in Tech-Ed! The science classrooms have been labeled "unsafe for the number of students in the classroom." Our parking situation is infamous. Some of the most beautiful expressions of human creativity happen in our parking lots when there are no spots left. Our entire counseling office is the size of a classroom.
Lunch is absolute chaos. The school feeds thousands of people in the span of almost two hours. Students eat on top of lockers. It's everyman for himself when it comes to lunch seats, especially the circle tables in the back. A foodfight is known to have started over a seat dispute.
The District has realized this and that's why they appointed the task force, which is going to give its recommendations on Jan. 23rd. But the question is why this needed to happen now. Does administration need to wait until the problem strangles our school, or can they not just act in anticipation of population changes? They have data on population, and they know how many eighth graders will be joining the high school. Yet, we still sit in overcrowded classrooms in a miserable building. We are not numbers over the capacity. We are students. The inaction and ineptitude of the district administration is jeopardizing our future. A few graduation classes shouldn't underperform while we wait for a new building or reconstruction. Students with hopes and dreams are in BHS classrooms. The District needs to act now to solve Blaine's severe overcrowding. Every day is another dream crushed.