Trump Announces Plan to Rewrite Constitution [Satire]
States that Alexander Hamilton was "a total loser"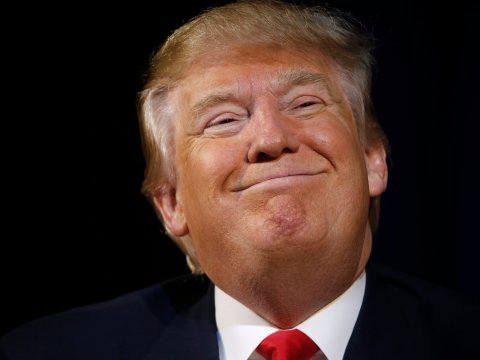 Hang on for a minute...we're trying to find some more stories you might like.
At a rally held yesterday in his home state of New York, Republican Presidential Nominee Donald Trump delivered a powerful speech to a crowd of his supporters.  Using eloquent rhetoric as only he can, Donald Trump gave a beautiful speech regarding the U.S. Constitution.  Excerpted here are a few lines of this speech from the greatest presidential candidate ever.
"I love and respect the constitution more than anybody — let me tell you, more than anybody — almost as much as I love and respect women.  But whoever wrote it had no idea what he was doing.  I think it was a guy named Hamilton.  And you know, he was a total loser.  He got shot in a duel.  I don't like people who get shot in duels.  But he messed up bigly, really bigly.  And let me tell you, Shifty Hamilton and Crooked Hillary — who is such a nasty woman, let me tell you —  talked and found a way to rig it against me.  I mean, the whole thing is ridiculous.  Nobody even brings it up.  They don't even talk about that.  It was reported, but nobody talks about it.  They rigged it against me, and that's why everything I want to do is against the stupid thing.  The constitution is rigged, plain and simple.
"You know, I bet you don't know this, I could get more votes than that puppet, Crooked Hillary, and still lose because of this thing I've been told about called the "electoral college" — and I know a lot about colleges, I ran the best one in the country — and that just makes no sense.  Of course, nothing like that has ever happened, and probably never will, except it will if I lose, because that'd be the only explanation.  
"When I'm elected — because I won't lose unless it's rigged — I'll get a team of the best people — I'd tell you who, but no one's ever heard of them — to rewrite that thing.  We'll make it the best document in the world, and make it the new foundation — and believe me, I know a lot about foundations — of US democracy. We'll have guns, and waterboarding, and all that great stuff.  The nineteenth amendment will be gone.  We'll be able to deport anyone we want.  And it will be beautiful.  It will be the most beautiful thing anyone has ever seen.
"And our constitution will be written clearly.  Nobody will have to argue about what the heck it means.  That's the problem with our constitution — it's just a suggestion.  Nobody knows what the heck it's supposed to mean, but Crooked Hillary and the Democrats try to interpret it so that it works for them. None of that with our new constitution.  That way we can start to focus on how big we're winning and not dumb things like "abortion" or "police brutality", all of which, by the way, are fake issues created by the media to distract you from the Crooked Hillary's Emails."
Mr. Trump continued speaking, but most of what he said was drowned out by the crowd's deafening shouts of "U-S-A!  U-S-A!  U-S-A!"  intermingled with chants of "Trump!  Trump!  Trump!"  Eventually, these cries morphed into shouts of "Hamilton sucks!  Hamilton sucks!"  and eventually "Get rid of college!  Get rid of college!"
This speech is exactly the spark that Mr. Trump's campaign needed.  He has proved once again his fantastic grasp of political nuance.  Mr. Trump is the innovator that Washington needs.  He is an intelligent, sensitive man who will revolutionize our country and truly make America great again, as he has shown again in this resounding speech.  On November 8, I hope that all of you will go out and vote for the only man who can truly create change for this great nation.