2022 SnowDaze Coronation Recap
Alonso Alley and Amy Nguyen crowned as Blaine's SnowDaze royalty
On the morning of January tenth, 2022 thousands of kids crammed themselves into the Blaine High School bleachers to watch two of their peers be crowned as SnowDaze royalty. In the back of the field house, sparkly dresses and bright bow ties adorned nominees, despite the stress, those running for crowns happily chatted in the corners of the gym.
Later that pepfest, Alonso Alley and Amy Nguyen were crowned King and Queen.
Bengals watched King Alonso Alley walk with Jordan Kipp. Announcers noted that Alley would have walked with best friend (and canine) Batty Alley had admin allowed. Alley used their platform to recommend underclassmen to be active in BHS activities but take time for themselves. 
Queen Amy Nguyen walked with boyfriend Brenen Olson, who she labeled as one of her "biggest supporters". Mr. Hebert was labeled as an influential educator as he was her Orchestra teacher and Marching Band instructor.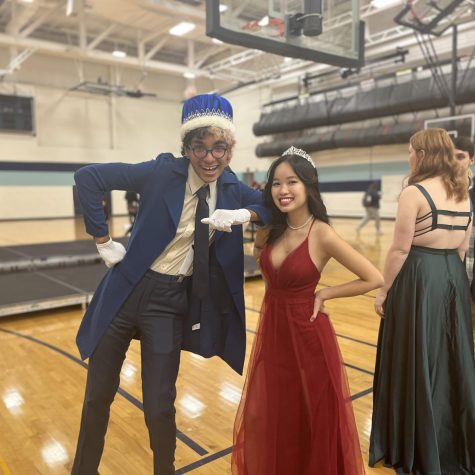 Although, the walk started with Jack Pelkey running for King, accompanied by Tina Wadhwa. His description read by Junior Jay Johnson detailed the best advice he has ever received. Speed and distance control when driving, told to him by his mom. The chess grandmaster completed his walk and took his spot on the stage. 
Next up was expert card player Riley Schaff, escorted by Madi Paal. The Master's of Ceremony reminisced over the 80-degree weather that she and her friends would play card games in. A Master of Ceremony then declared her most influential educator as Mr. Hebert. 
Alex Gaber and Kaci Schmoll were the next to grace the field house floor. Gaber chose Schmoll as "she makes my day". Likewise, Kaci Schmoll who ran for Snowdaze queen chose to walk with Gaber. Not only because they are an item, but because he "makes dumb comments that make her laugh" and because "he's so fun to annoy".
Alex Slotto was escorted by Kade Thiel. He then went on to have Master of Ceremony Brie Peterman announce his influential educator as Ms. Hollen because of her unconditional support. Twelfth-grade nominee Tee Oluwole also made an appearance with Ariyana Stanford. Their similarity was labeled as a big contributor to their dual appearance. 
Brooks Koste going for King was accompanied by Brian Perreault. Koste cited Rachel Fountain as one of his biggest influences as she "makes class enjoyable"
One of this year's biggest competitors, Kailey Perreault, escorted by Olivia Spencer, made her way to the stage. Perreault named dancing with Blaine Dance Team during football half-time games as one of her favorite memories.
Chemistry whiz Max Yantes ran for royalty with Carter Anderson escorting him to the stage. Yantes quoted Mr. Theisen, Blaine Chemistry teacher, by saying "eat a slice of humble pie" as a reminder to be respectful. 
Finally, Kaia Ruliffson walked the stage with friend Sophia Strootman. Ruliffson chose Strootman as they share a connection that is unique and in no way replicable. Ruliffson is recorded saying that she "hopes that she (Strootman) stays by her side forever".