One Last Show
A Review of Blaine's Production of Bye Bye Birdie
You walk into the auditorium to see a small simple office set on the stage. Nothing special. But once the band starts to play, music building, lights brightening, your eyes are glued to the stage from beginning to end. This year's spring musical, Bye Bye Birdie, was a show worth seeing.
Based on the story of American rockstar, Elvis Presley, Bye Bye Birdie is a 60's set musical comedy about a rockstar named Conrad Birdie, played by Nate Smith, being drafted to the army. As a farewell, Conrad goes to the small town of Sweet Apple, Ohio to give the lucky Kim MacAfee, played by Anne Beyer, a goodbye kiss, and turning upside down of the lives of his Agent Albert Peterson, played by Nathan Olson, Albert's Secretary Rosie Alvarez, played by Joanna Quick, and the rest of the folks in Sweet Apple along the way.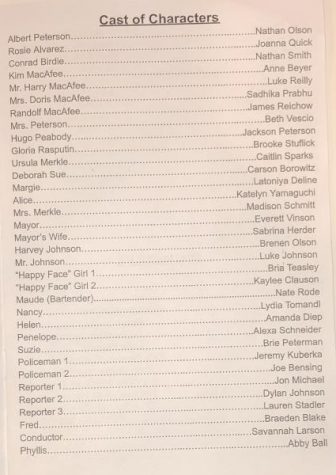 The performance by our classmates is funny, engaging and shows off the talent of many Blaine students. The show is also complimented and enhanced by the very well made set and costumes which seem to transport you back to the 60's.
A few stand outs: Nathan Olson as Albert Peterson, who brought a lively and likable personality to the character. Beth Vescio as Mrs. Peterson, who seemed to be born for this role. Joanna Quick as Rosie Alvarez, who stood out from the rest of the female cast with her lovely alto range. James Reichow as Randolph MacAfee, the only senior I know that can not only act like an 11-year-old, but sing like one to. And Caitlin Sparks as Ursula Merkle, who could be the next Kristin Chenoweth.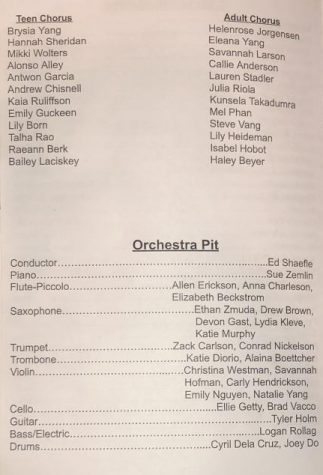 Every good show must have at least one mishap, and this talented cast powered through every bump in the road like true professionals.
Something that made this production truly unique was they had the pit orchestra actually in the pit rather that back stage. This means that the orchestra played in front of the stage in a lowered section, or "pit". It was like two shows for the price of one being able to watch the band as well as the show. Very few high schools open the pit anymore, so this was a very special experience and a smart choice on the directors behalf.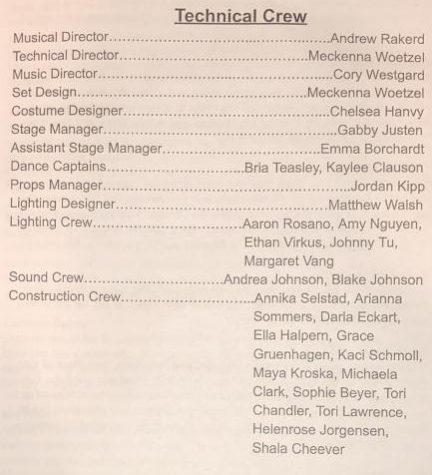 Speaking of the directors, this was the first production at Blaine Directed by Mr. Andrew Rakerd, Ms. Mekenna Woetzel, and Mr. Cory Westgard. Overall, it was a great debut for this new directing team and we look forward to musicals to come.