Why Blaine High School Students Chose to be Silent
"One day of meaningful silence is worth a whole lot more than a day of aimless words," says a participant of "Day of Silence."
BLAINE HIGH SCHOOL On Friday, April 21, most Blaine students were busy planning their weekends and waiting for the final bell to ring. But not all students were chatting and gossiping with their friends; some students chose to not say a single word for the entire school day.
They are a part of a nation-wide movement called "Day of Silence" (DOS) started by two University of Virginia students in 1996 to silently spread the word and raise awareness about anti-LGBT bullying and harassment. At Blaine, students have participated in DOS for over a decade.
During DOS, students carry a palm card or pin it to their clothes. Prior to DOS, the Gay-Straight Alliance (GSA) spreads the word at an information table during lunch and students pass out the palm cards in advance.
The cards read: "Please understand my reasons for not speaking today. I am participating in the Day of Silence (DOS), a national youth movement bringing attention to the silence faced by lesbian, gay, bisexual, and transgender people and their allies. My deliberate silence echoes that silence, which is caused by anti-LGBT bullying, name-calling, and harassment. I believe that ending the silence is the first step toward building awareness and making a commitment to address these injustices."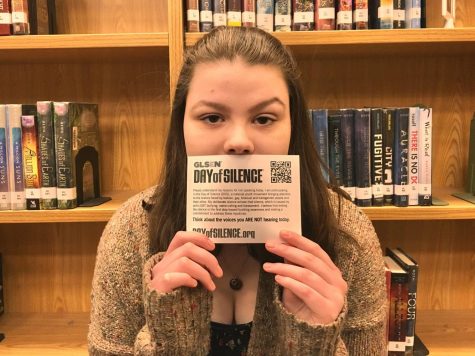 Mr. Levine, the advisor of the GSA, says that he hasn't witnessed a lot of anti-LGBT bullying or harassment at Blaine. "Your generation is more accepting of queerness and accepts it as being part of the general diversity of society," he explains.
However, anti-LGBT bullying has affected him in a very personal way. His friend had committed suicide because of being bullied and harassed because of what he identified as. This pushed Mr. Levine to become Blaine's GSA advisor. He says, "Students need a supportive adult and a safe place free of judgment like the GSA so things like that don't happen at our school."
Multiple surveys conducted by GLSEN (Gay, Lesbian, and Straight Education Network), show that about 8 out of 10 LGBT students have experienced harassment and bullying. They also show that 61% of them don't report it to an adult. These factors may have contributed to the high suicide rate of the students.
In a 2008 study conducted by the Suicide Prevention Resource Center, it stated that LGB youth are 2-3 times more likely to commit suicide than other teens. A DOS participant says, "The number of suicides and deaths because of bullying and harassment is too high not to do something about it."
Participants also had other reasons why it was important for them to be a part of DOS. Freshman participant Lindsey Fields said, "I have many friends that are LGBT, and I have seen how LGBT people have struggled and been repressed throughout history. Being able to not speak during 'Day of Silence' was difficult. Every time I wanted to say something I was frustrated. But I then I remembered how much harder it was for people my grandpa's age and even people today to remain silent and keep their identities a secret."
Another Freshman, Louis Jensen, felt in a similar way: "I participated as a sign of respect and acknowledgment for the LGBT community. Throughout the day I realized it was a valuable experience for me. I often opened my mouth about to speak but then stopping once I had remembered my commitment. I almost felt trapped, just like someone faced with bullying may feel. Although, my experience of being silent for one day must be nothing compared to someone facing such difficulties. It taught me that no one should have to face that feeling of being trapped every day and that there are ways I can help to raise awareness. One day of meaningful silence is worth a whole lot more than a day of aimless words," he said.
For some participants, it was more of a personal matter. "My middle school really silenced the LGBT community. They disbanded our clubs and tore down symbols of pride. I even lost my best friend of nearly 8 years because of my orientation. All of this made me really want to spread the message of acceptance to this school and help raise awareness to the issues LGBT teenagers are facing. The 'Day of Silence' helps us spread the message to teachers, staff, and students. It also helps bring up the conversation about what we can all do to help LGBT teenagers, and about our experiences," said another participant.
According to Mr. Levine, the DOS is only one of many things the GSA organizes in an effort to raise awareness about the issues of anti-LGBT bullying, harassment, and discrimination. This year, GSA has grown to about 50 members. Mr. Levine hopes that both the GSA and DOS will have an even bigger presence at Blaine High School next year, and for years to come.
For Further Reading:
https://www.glsen.org/day-of-silence/