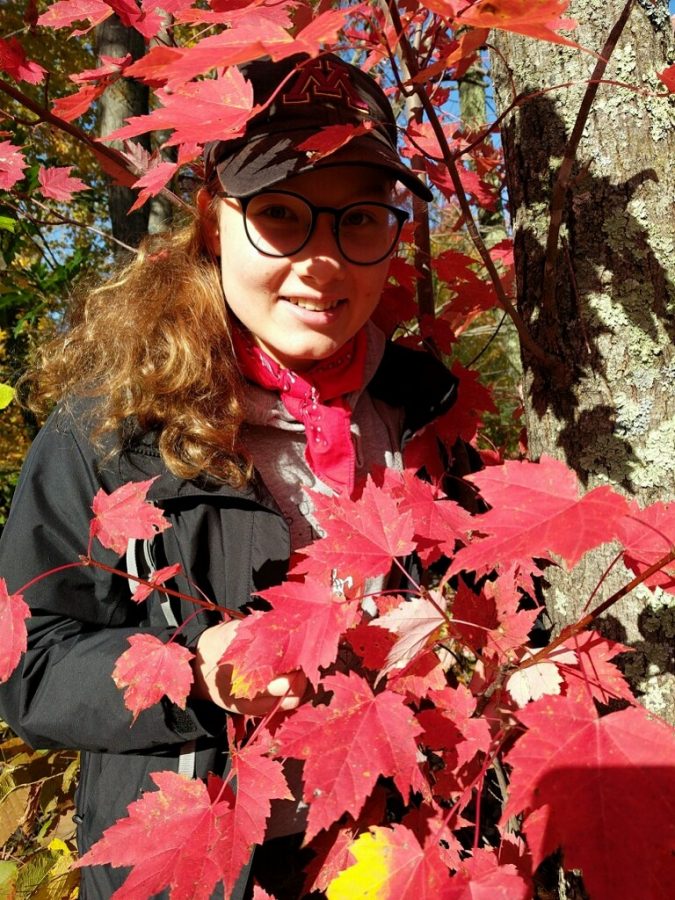 Thank you for visiting my profile page.
Class of 2020. Check out my photo essays and articles.
The Blueprint staff is always looking for new writers. If you are interested, please come to our meetings, every Wednesday after school from 2:30 - 3:00 in Mr. Loo's room 148. Invite your friends.
Feel free to contact me if you have any questions or comments:
[email protected]
Laima Liulevicius, Editor
Mar 03, 2020

Surviving in the Boundary Waters: Snapshots from Winter Trek '20

(Story)

Jan 12, 2020

I survived Winter ODA: Ice Climbing

(Story)

Sep 28, 2019

You are Loved. You are not Alone.

(Story)

Sep 03, 2019

Opinion: Should we ask for pronouns? Absolutely.

(Story)

May 28, 2019

A Cautionary Tale: ODA Biking Accident

(Story)

Jan 30, 2019

Top 10 Things to do on a Snow Day or Cold Day

(Story)

Dec 16, 2018

Opinion: Fitness Standards: Accurate or Sexist?

(Story)

Nov 20, 2018

BHS Snapshot: ODA Deer Dissection

(Story)

Nov 11, 2018

Blaine Plays Lights Out: Class 6A State Quarterfinal

(Story)

Nov 04, 2018

BHS Blueprint Monthly Writing Contest: November 2018

(Story)

Oct 18, 2018

Locker Integration

(Story)

May 20, 2018

Highlights from 2018's CEMS Senior Projects

(Story)

May 05, 2018

Weekly BHS Snapshot: Optical Phenomena

(Story)

Apr 22, 2018

2018 CEMS Research Project: Radishes grown with hydro-mechanical irrigation

(Story)

Apr 19, 2018
Apr 18, 2018

Weekly BHS Snapshot: Above 15.8 inches

(Story)

Apr 15, 2018

Tiny But Mighty: Blaine Speech sends 3 Speakers to State Tournament

(Story)

Apr 01, 2018
Dec 23, 2017

Everyday Sexism: Lines at the Girls' Bathrooms

(Story)

Dec 23, 2017

The Truth Behind the Hall Passes

(Story)

Nov 27, 2017

True Experiences of Homeless Students at BHS

(Story)

Sep 17, 2017

Blueprint seeks new journalists

(Story)

May 25, 2017
May 22, 2017

The Message Behind the Cards

(Story)

May 17, 2017

How one club aims to change the world, beginning with Blaine High School

(Story)

May 09, 2017

Why Blaine High School Students Chose to be Silent

(Story)

May 04, 2017

Debate Queen Alexis Wagenfeld

(Story)

Apr 10, 2017

BHS Multicultural Club prepares for annual Multicultural Show

(Story)

Apr 05, 2017

What the "Clean-Up Blaine" crew found in Blaine High School's backyard

(Story)

Feb 01, 2017

The American Musical: "Hamilton"

(Story)

Dec 21, 2016

Experiences of a Transgender Student at Blaine

(Story)