District 37B Minnesota State House Election Guide: Nolan West and Amir Malik
Hang on for a minute...we're trying to find some more stories you might like.
If you read the news, you probably know that this year is an important election year, with members of the U.S. Senate, U.S. House of Representatives, and many governors up for reelection.  What you might not know is that all members of the Minnesota House of Representatives are up for reelection as well. 
If you are a resident of Blaine, you probably live in Minnesota House District 37B.  This year, the two candidates running for election in this district are Republican incumbent Nolan West and his Democratic challenger Amir Malik.  In this article, you will find information about these two candidates, including their qualifications and their stances on various issues, to help you make an informed decision when you vote this coming November.
Candidate Information
Nolan West
Party: Republican
Endorsements: National Federation of Independent Businesses
International Union of Operating Engineers Local #49
North Central States Regional Council of Carpenters
Minnesota Concerned Citizens for Life
Care Providers of Minnesota
Conservatives for a Clean Energy Future
Background: Representative West was born and raised around Blaine. He attended Meadow Creek Christian School in Andover (the year after he graduated, the school's name was changed to Legacy Christian Academy). He then attended the University of Minnesota where he earned a BA in history. After graduating, he worked as a legislative assistant in the Minnesota House of Representatives.
Political History:  Representative West first entered politics in 2016 when he ran against Democrat Susan Witt for the District 37B Minnesota House seat. Representative West ran amid controversy over inflammatory social media posts he made in high school and college.  He defeated Witt by only 168 votes.  As a lawmaker, Representative West has authored or sponsored a number of bills that were made into law, including HF 187, which secured funding for reconstructing 105th Ave; HF 1638, which aided veterans looking for employment in the building trades; HF 1489, a property tax cut for manufactured housing; and HF 1882, which encouraged construction of solar energy generation in Northern Minnesota.  Representative West also sponsored HF 769, a bill which would have permitted courts to award damages to a law enforcement officer if they were found not responsible in a wrongful death suit.  This bill was controversial, as it was written less than a year after the death of Philando Castile, and it ultimately did not become a law.  Another bill that Representative West sponsored but did not get passed into law was HF 950, a bill that would have modified tax rates by lowering income tax by about .1% for each bracket.
Amir Malik
Party: Democratic-Farmer-Labor
Endorsements: Conservation Minnesota
Sierra Club
Minnesota Professional Firefighters
Minnesota Nurses Association
Planned Parenthood
Education Minnesota
Minnesota American Federation of Labor and Congress of Industrial Organizations (AFL-CIO)
American Federation of State, County, and Municipal Employees (AFSCME)
Minnesota Association of Professional Employees
Background:  Mr. Malik was born and raised in a blue-collar neighborhood in Illinois.  After attending the University of Illinois for his undergraduate degree, Mr. Malik attended New York University Law School, where he studied Corporate and Securities Law.  After graduating, Mr. Malik worked for Wall Street law firms, where he specialized in securities and pharmaceutical law. Mr. Malik now works as the Civil Rights Director for the Council on American-Islamic Relations, a non-profit organization whose mission is to protect the rights of Minnesota Muslims.  
Political History:  This is the first time that Mr. Malik has run for public office.
Each candidate on the issues
Infrastructure
Representative West and Mr. Malik agree that Minnesota infrastructure must be improved, especially in relation to Highway 65.  They both believe that an overpass at the intersection of Highway 65 and 109th Avenue is necessary, and both have promised to work to secure funding for such a project. 
Environment
Both candidates have acknowledged that global warming exists and must be combated, and both have been endorsed by environmental organizations.   Representative West has been endorsed by Conservatives for a Clean Energy Future, while Mr. Malik has been endorsed by Sierra Club and Conservation Minnesota.  In 2017, Representative West helped pass a bill that encouraged the construction of solar energy generation in the state.  
Healthcare
Both candidates agree that Minnesotans need more affordable healthcare.  Mr. Malik has expressed his desire to remove the income cap for MinnesotaCare so that people of all economic standing could buy into the system. He believes this would allow people to seek better jobs without fear of losing their healthcare. He also believes that cuts to Medicare should cease. Representative West believes that the solution to rising healthcare costs is to cut taxes and encourage competition between insurance providers.
Taxes
Representative West has supported tax cuts for seniors, parents, and recent college graduates during this past term. Mr. Malik supports cutting property taxes for seniors as well.
Education
Mr. Malik has placed an emphasis on education, saying that an educated workforce is attractive to companies, and that educating Blaine will increase the amount of jobs available to the populace.  Representative West believes that there should be a greater focus on technical education, as "university is not for everyone."  As a legislator, Representative West has secured funding for Summit Academy, a school that provides vocational training, as well as Helmets to Hardhats, an organization that helps veterans find jobs in the construction industry.
Interviews
We reached out to Representative West and Mr. Malik to ask them some questions about themselves and their campaigns. 
Nolan West
What has been the most rewarding part of being a lawmaker?
The most rewarding part of being a lawmaker is being able to help people get through to state agencies. When I first was elected, the website for MNsure (the place where you buy health insurance and apply for tax credits to help pay for it) was completely non-functional. It was an utter disaster for the state, and many people were unable to even buy insurance. Not only that, but the call center was overwhelmed, and many people were getting busy signals or put on hold endlessly.  I had dozens of constituents contact my office, and I was able to help them get insurance by having MNsure folks call them directly so they didn't have to wait on hold endlessly. Being able to solve someone's problem when they are justifiably frustrated is incredibly rewarding, especially with something as important as health insurance.
How would you respond to people who continue to bring up some of your social media posts as a teenager?
I was a dumb kid who enjoyed telling foul jokes, and provoking people to get attention. I am grateful my constituents supported me, despite my incendiary youth, and chose me to represent them in the legislature. I hope any students reading this will be careful what they post on social media. You never know where life will take you.
What accomplishment from your time as a lawmaker are you most proud of?
I am most proud of securing funds to rebuild 105th Ave in front of the National Sports Center. We have people from all over the world come to the sports center, and it was a shame that the main road they used was so dilapidated. Rebuilding 105th Ave was one of the commitments I made on the campaign trail, and I am happy I delivered on my promise.
If you are reelected, what are your goals for the next two years?
My number one goal is to rebuild Hwy 65. When I first was elected, I was shocked to hear essentially nothing was planned for Hwy 65. So I started advocating for a study of the roadway from County 10 all the way up to Bunker Lake Blvd. As soon as that study concludes, I hope to have money waiting for it, so projects can start right away.
My number two goal is to support technical education in Minnesota. We need to make sure our tech colleges are affordable, and ensure our high schools offer some technical training so students are employable right out of high school. University is not for everyone, and many people end up with life-long debt acquiring a worthless degree. If we can help people get technical training in IT, welding, or carpentry, they will have many more opportunities than getting a four year degree with hundreds of thousands in debt. We need to broaden our higher education focus beyond just university.
Is there anything else you would like to say?
The High School Page program is for Juniors and Seniors who would like to know more about government through first hand experience. If you have an interest in government, I highly recommend you apply. It looks great on a college application too! You can find out more here: https://www.house.leg.state.mn.us/edprog/over2p.htm
Also if you live in my district, feel free to contact me anytime with any questions you may have. Whether you are voting age, or not, I represent you regardless. The best way to get in contact with me is through email at [email protected]
Amir Malik
Both you and Representative West agree that steps must be taken to lower healthcare costs for Minnesotans.  What specifically is your plan for doing this?
I would like to see the income cap removed from MinnesotaCare. This would allow all Minnesotans to buy into the system and would encourage those already in the system to work more hours or take better jobs without worrying about losing their health insurance.  I will never support eliminating coverage for pre-existing conditions and I will never support measures that compromise the quality of healthcare [Minnesotans] receive.
What has been the most rewarding part of your job as the Civil Rights Director for the Council on American-Islamic Relations – MN?
My job is to protect people's rights under Minnesota Human Rights Act, the Civil Rights Act of 1964, and the United States Constitution. This has meant fighting bullying at schools, fighting employment discrimination, and protecting people's rights under the First Amendment. All of these [experiences] have been rewarding.
If you are elected, what are your goals for the next two years?
I'll work hard to get us moving on Highway 65, to make sure our schools are funded, to reduce health care costs, and work hard to make sure the legislature follows Minnesota's Constitution.  Our Constitution requires that bills address a single topic, but in recent years the legislature has thrown multiple topics together knowing that these bills will never be enacted. This creates two problems: the legislature accomplishes very little and voters are denied governmental transparency. Both of these problems are detrimental to long-term health of democracy in Minnesota.
How would you respond to people who claim that you have not lived in Blaine for long enough?
My wife and I bought our first home here in Blaine and we hope that when our children are grown they'll choose to make Blaine home for their families too. We're not alone in moving to Blaine. The new construction and new families moving into Blaine are a testament to the friendliness of community and the result of the mid-western values we share.
What accomplishment from your time at CAIR – MN are you most proud of? 
As a father of four, the most difficult and rewarding accomplishments are those that successfully challenged and stopped bullying. Helping families find justice opened my eyes to the unique challenges schools face creating an effective and safe learning environment, and I will work hard as Blaine's next State Representative to make sure schools have the resources they need to prepare students for success.
Is there anything else you would like to say?
We live in a representative democracy, but for the government to be representative of the people, the people must vote. I hope that everyone who is eligible to vote will do so after educating themselves about the candidates the issues. This process is what makes our government by the people and for the people.
Importance of voting
In 2016, 22,778 of 30,205 voting age people actually voted in the Minnesota House District 37B race. That is only 75%. The race was won by only 168 votes. If history repeats itself and this race is as close as it was in 2016, every vote matters. If you are going to be of voting age on November 6th, please register to vote as soon as possible. In Minnesota, you can register online or in person on election day. Students are also ready to help you register during lunch here at school. The impact of your vote, especially in this district, cannot be overstated. The person selected by the people will represent you for two years. Make sure that you have a say. Make sure you vote.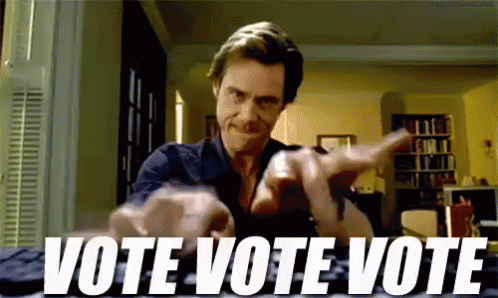 Additional resources:
Nolan West's Legislative Profile