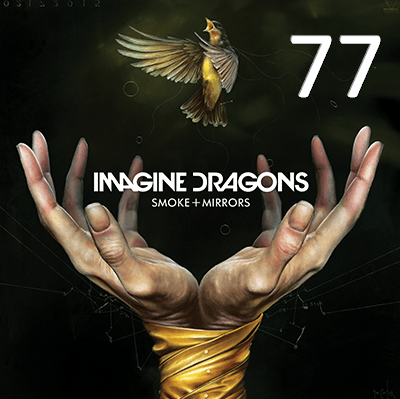 After their debut album, which has now sold over 4 million worldwide, Imagine Dragons finally release their hotly-anticipated sophomore album, and it's one hell of a ride. Here are reviews of each song, track list order:
Grading Scale: 100-69 = Great  68-55 = Average  54-0 = Bad
1. Shots = 91/100
Oh, those fine days before Imagine Dragons flew to the top of every chart, yes, that's right, I mean their EP days. Back then, they had extremely diverse tracks that crafted a unique signature for the band, one that has been carried over in bothNight Visions and Smoke + Mirrors, especially their newest single from the latter, Shots. Let me clarify, their new music isn't bad, far from it, but when Imagine Dragons take the reigns without their producer Alex Da Kid, magic happens. Shots truly is remarkable, for first-time listeners, the song may sound strange, but after a few plays,  the track's purpose starts to shine through, and it becomes your next obsession.
2. Gold = 89/100
– By now, Imagine Dragons have proved their ability to create diversified tracks, many of which have no relevance to each other. Just take "Radioactive" and "It's Time", they sound nothing alike. Unlike Smoke + Mirror's lead single "I Bet My Life", "Gold" is a dark, deep and profound track intensified by an atmospherical omnipresent rift mixing with Reynold's voice. It tells a story for those who listen enough, and delights people who could care less about lyrics. If their second album features more music akin to "Gold", then I'd be completly satisfied.
3. Smoke and Mirrors = 84/100
– The soul of their sophomore album, Imagine Dragons adds a potent mix of booming drums and soulful croons from frontman Dan Reynolds, all the while blending into a layered masterpiece.
4. I'm So Sorry = 92/100
– Reminiscent of the old rock era, I'm So Sorry boasts a familiar but distinctive anthem, the most rock-laden track of their second album.
5. I Bet My Life = 59/100
– Imagine Dragons single that sounds nothing like an Imagine Dragons song, yet, even with that in mind, isn't a bad song, just not the best for them. I Bet My Life is written like an Imagine Dragons song, sounds like a Mumford and Sons track and is heavy with an energetic feel. Nothing left for me to say, 59/100.
6. Polaroid = 80/100
– The sixth track off of Smoke + Mirrors shows Imagine Dragons ability to change styles but still retain their identity. Polaroid is catchy and simple, but still profoundly deep in it's message.
7. Friction = 68/100
– While stylish and enigmatic on the surface, Friction is a mess underneath, but still has enough power to explode, because of, you know, too much friction.
8. It Comes Back To You = 95/100
– Meaningful and heartfelt, It Comes Back To You sticks in your head, and will have you seeing magic in even the most basic of images. It's hard to believe that the band who gave us Radioactive crafted such a melodic, moving and symbolic clash of mind.
9. Dream = 97/100
– A song that inspires you not only to dream but to chase what you imagine. "Dream" is beautiful, inspiring and emotional. Departing from Imagine Dragons sophomore crazy style, the track is a definite commercial and critical hit. Only one other song can rival "Dream", "It Comes Back To You" is a worthy alternative.
10. Trouble = 66/100
– Trouble has too much going on, crowded and cluttered with dynamic and enthusiastic bangs and bursts, by the time the end rolls around, you may end up sweating a bit. The promise of this song is its core, vibrant and somehow infectious, just as an Imagine Dragons song should be.
11. Summer = 61/100
– A popular song title these days, Summer tries to make an impact, but fades as the track continues. Smoke + Mirror's eleventh track does however push a sincere message into our heads, just listen to find out.
12. Hopeless Opus = 54/100
– As much as I try to like Hopeless Opus, I always stick with my conclusion, the song is just too out of control, and Imagine Dragons failed to reign it in.
13. The Fall = 70/100
– A fitting way to finish their second album, The Fall is powerful and prominent, and slightly reminds me of Night Visions, which to me is a promise that Imagine Dragons won't settle with two albums, and a third is in the works, one that combines both Smoke + Visions together.
Overall Album Score (13 Song Total): 77/100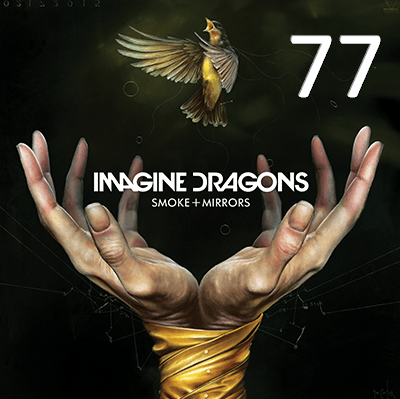 Preorder the album here on itunes and here for target, which includes four extra tracks.
See more album reviews at Joel Freecheck's blog Everything Mainstream